Get Your Smile Back with Restorative Dentistry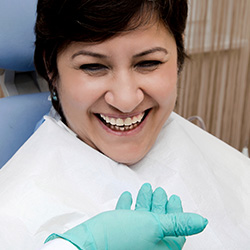 One of the main focuses of West Coast Implants is rebuilding people's smiles. Whether a person has cracked, chipped, decayed, or missing teeth, Dr. Ben Partovi and our team can help. We offer a variety of treatments such as traditional crowns and bridges, tooth-colored fillings, implant supported teeth and conventional dentures. Every one of these procedures can help give you your smile back and restore it to its former glory. If you're ready to have a complete smile again, just contact our office today for an appointment.
Traditional Crowns & Bridges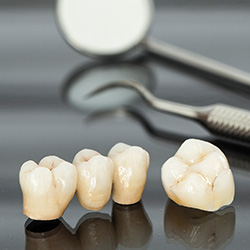 Crowns and bridges have been used for generations to repair broken and missing teeth. A crown is typically used to restore a single tooth, while a bridge can help replace one or two missing teeth.
A crown is a tooth-shaped restoration that simply slips over the top of a damaged tooth in order to restore its lost structure and/or enhance its appearance. Because of this, it is sometimes called a "cap." You can have one placed in as little as 2 visits, and they can last for years with simple brushing, flossing, and routine checkups
For a bridge, crowns will be applied to the teeth surrounding the missing ones, and a prosthetic (or "pontic") tooth will be bonded to them to literally "bridge" the gap. Although dental implants are usually a better alternative to adding teeth to gaps, there are rare times, however, when a bridge is the better option for you. Dr. Ben Partovi can help you with understanding the differences as it relates to your dental situation.
Tooth-Colored Fillings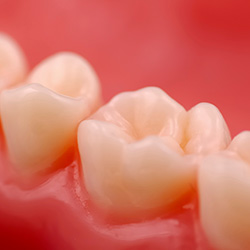 Fillings are typically used to treat teeth that have a small cavity or a slight amount of structural damage. In the past, a substance called amalgam was used to make these fillings, and the dark gray color made them instantly noticeable in a person's smile. They also required quite a bit of enamel to be removed to accommodate them, which weakened the tooth overall.
Tooth-colored fillings, however, address both of these problems. They can be custom-shaded to match a person's natural tooth color, and they bond directly to enamel so your dentist can preserve more of your tooth's natural structure and strength while placing them. When it comes to longevity, durability, and cosmetics, this treatment truly provides the best of everything.
Root Canals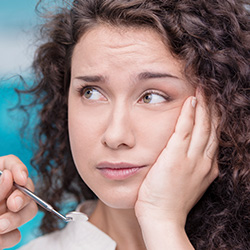 Despite their dubious reputation, thanks to modern dentistry, a root canal is actually a relatively painless procedure that is extremely useful in saving teeth that might otherwise need to be removed. We typically use them when decay or an injury has damaged the sensitive inner layer of a tooth where the nerve resides. The pain people usually associate with root canals often stems from the injured nerve, not the procedure itself! Root canals can be used to relieve this severe pain and restore even the most damaged teeth.
Extractions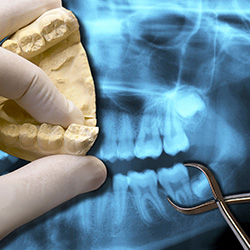 While we always try to preserve your natural teeth, sometimes the best solution is to simply remove one. We handle all of our extractions with the utmost care and a gentle touch. And involved extraction cases or where a patient suffers from high anxiety can be managed comfortably using oral or IV sedation.
A tooth extraction may be necessary if:
A tooth is so damaged it cannot be restored
Decay or an infection in one tooth is threatening surrounding teeth
To replace a weak/infected tooth with a much stronger dental implant
Wisdom Tooth Extractions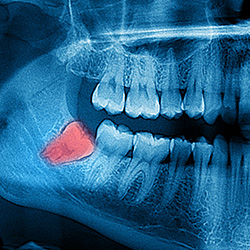 The third set of molars, or "wisdom teeth," often need to be extracted because a person does not have enough room in their mouth to accommodate them. This means that when the teeth try to come in (usually around the ages of 16-25), they can cause the other teeth to shift, and they often become stuck (impacted) and infected. This infection, if left alone long enough, can spread all the way to the jawbone and even cause tooth loss. Dr. Partovi will always keep an eye on you or your child's wisdom teeth during regular appointments so he can remove them before they actually cause any problems. Dr. Partovi will use a form IV sedation to help ensure the patient is safe, comfortable and at ease throughout the extraction.