Replace Your Missing Teeth with Dental Implants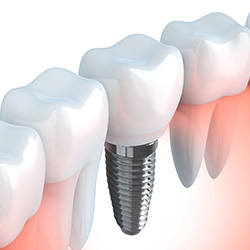 Missing teeth are more than just a cosmetic problem. A single missing tooth can cause the remaining teeth to shift into the gap and become misaligned, it can also cause you to chew more on one side causing joint problems and cause further damage on remaining teeth. With multiple missing teeth, the problems are compounded. With missing teeth, the gums and bone will shrink causing a more aged appearance and a drastic decrease in ability to chew foods. When people want to replace their missing teeth and have a complete smile again, they come to see Dr. Ben Partovi at West Coast Implants. With his years of experience and extensive training, he can help formulate a treatment option that's best suited for you to restore your smile and function once again. If you're ready to fill in the gaps in your smile or get rid of those loose dentures, just contact our office today.
Dental Implant Placement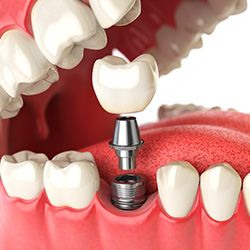 A dental implant is actually a small titanium post that is placed under your gum and is used to restore a lost tooth root. This can then be used to support a variety of prosthetics that can replace a single tooth or multiple teeth. The titanium root is what makes implants so special, and it's why they are able to provide benefits to missing teeth no other procedure can:
Create a sturdy and secure base for a prosthetic tooth. They even bond to the surrounding bone just like your natural teeth
Support the jawbone from the inside to prevent the bone atrophy common after tooth loss
Encourage a renewed blood flow to the gums and jaw that keeps them healthy for years to come
Provide a result that is indistinguishable from natural teeth
With the proper maintenance, dental implants can last a lifetime.
Implant-Retained Crowns & Bridges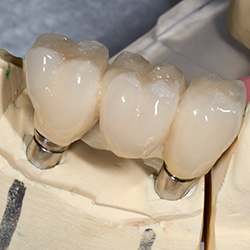 One of the most common uses for dental implants is to replace one or more missing teeth with implant supported crowns and bridges. Just like their traditional counterparts, implant-retained crowns and bridges can be used to restore a single tooth or a row of consecutive missing teeth.
For a single tooth, a dental crown made of natural looking materials called zirconia and porcelain will be attached to the implant by using a tiny screw. These crowns are fantastic because they are extremely strong and durable, and they can completely mimic a natural tooth's appearance in every way. The crowns even have some translucency to them, just like regular enamel, meaning it will reflect light just like your natural teeth. With an implant bridge, a set of prosthetic teeth can be attached to implants to fill in a larger gap in your smile.
Regardless of the type of restoration, both can easily last for decades with just brushing, flossing, and routine checkups.
Implant-Retained Prosthetics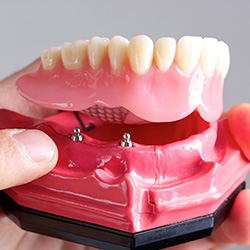 Dental implants are actually quite versatile and can be used to support a variety of dental prosthetics such as partial and full dentures.
Implant-retained dentures look just like traditional ones, but they have a few significant advantages. Firstly, since they are being held in place with titanium posts as opposed to just metal clasps or natural suction, they will fit much more securely and never slip, pop, or click. They will also maintain their fit for much longer because the posts support the jaw from below and help the gums maintain their shape. Plus, they allow patients to have a much stronger bite force. This will enable them to eat a wider variety of foods with ease, including healthy proteins and fibrous vegetables (which many traditional denture wearers have to avoid).
If you're ready to have a set of dentures that you never have to worry about and can fully restore your smile's look and function unlike anything else, be sure to contact our office today.
Mini Dental Implants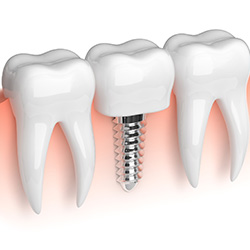 Mini dental implants, as the name suggests, are a much smaller version of regular implants. Because they are much shorter and thinner, they are able to work for patients who normally would not be able to get dental implants. They are ideal for people whose jawbone has become thin and brittle after years of extensive tooth loss. They are placed in the same way as regular implants, and they can be used to support a variety of dental prosthetics.
Grafting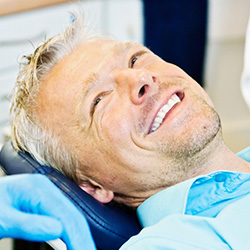 One of the basic requirements a patient needs to get dental implants is a jawbone thick and healthy enough to support the titanium posts. For patients who have been missing teeth for a long time, this often is not the case because the jawbone naturally starts to shrink and deteriorate when there are missing teeth for a long period of time.
In order to make a patient viable for dental implants, Dr. Partovi may need to perform a procedure called a bone graft. This would involve him utilizing some type of bone grafting material to augment the area of your jaw where he intends to place the implants. The bone graft is similar to a scaffolding holding the space for your own bone to grow into until it becomes wide enough to house a dental implant. The procedure can usually be completed in one visit, and after the new bone has formed which can take several months, you can return to have your implants placed.