Protect Your Gums and Overall Health with Periodontal Therapy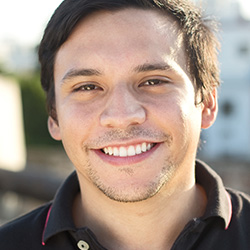 When it comes to your oral health, your gums are just as important as your teeth, and they also play an extremely important role in supporting dental implants. This is why Dr. Ben Partovi and our team will always keep an eye on the state of your gums during your regular checkups, and should you develop gum disease, we'll catch it early and treat it effectively.
Are you experiencing red, swollen, or painful gums? If so, these are usually signs of gum disease, and you should contact our office right away.
Scaling and Root Planing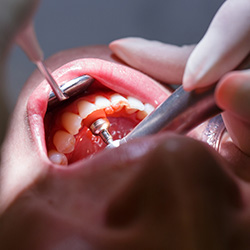 Most of the time, gum disease can be treated with more diligent oral hygiene at home and dental cleanings. However, if it becomes too advanced, more sophisticated treatments may be needed. One of the primary ways we treat gum disease is actually comprised of two separate procedures: scaling and root planing.
Scaling involves using specialized tools to perform a deep cleaning along the gum line. After this, root planing will be used to gently smooth out the roots of the teeth. This makes it much harder for bacteria and plaque to build upon the gums in the future, and it also helps the gum tissue reattach firmly to the teeth as it heals.
Bone Grafting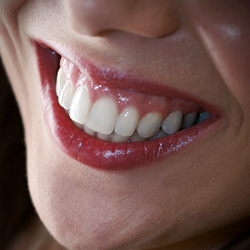 In some cases, the gum disease becomes so severe that it causes the bone around your teeth to shrink. When the bone shrinks it causes pockets between the gum and the tooth which collect debris and then further compound the gum disease. However, there are instances where we can decrease the pocket size by adding a bone grafting material around the tooth to help the bone grow back up around the tooth. This procedure can greatly increase the life of your tooth or teeth preventing tooth loss.
Bone grafting is also a procedure that a patient may need to undergo before receiving dental implants if they do not have enough healthy jawbone to support the posts. Using your own bone, donated bone, or a bone grafting material, Dr. Partovi will strengthen the jaw in the area he intends to place dental implants.