Better and Faster Care with our Advanced Technology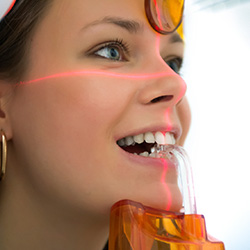 At West Coast Implants, we strive to stay on top of the latest advancements in dentistry. We always enjoy introducing new technology to our office because it means we're going to be able to care for our patients even better than before. We have high-tech tools that can help us diagnose you more accurately and treat you even faster. You can read below to learn about some of the equipment we use every day. If you'd like to learn more or want to schedule an appointment, simply contact our office today.
Intraoral Camera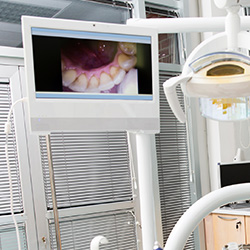 This pen-sized camera enables us to capture high-resolution images of your teeth and gums and display them on a chairside monitor, which will give us a better chance to catch small dental issues early. It also allows our team to show you what they are seeing, which enables you to be an active part of your dental care. Often, much of the anxiety associated with dentistry is because a patient simply can't see what their doctor is talking about. With our intraoral camera, that's now a problem of the past.
Digital X-Rays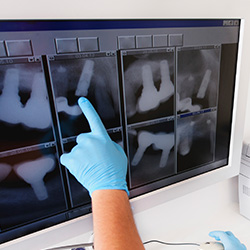 X-rays are an essential part of preventive dentistry as well as planning procedures like dental implant placement and wisdom teeth extractions because they allow Dr. Partovi and our team to see below your teeth's surface. They are much better than traditional x-rays because they can create images much faster and expose our patients (and us!) to 80% less radiation. It's also extremely easy for us to store, share, and send the images, which makes them ideal for long-term treatment plans and insurance purposes.
CT/Cone Beam Scanner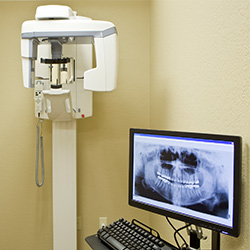 In some cases, you may need to go to a close by facility for a scan to create a fully 3D image of your teeth and jaw. You simply place your chin on a small platform, and then the scanner (attached to a mechanical arm on the ceiling) will rotate completely around your head taking hundreds of unique images. Using computer software, these images can then be formed into a 3D picture. It can be an essential part of planning a complex implant placement, and it enables us to be more accurate and guarantee better results.