Get the Help You Need Fast with Emergency Dentistry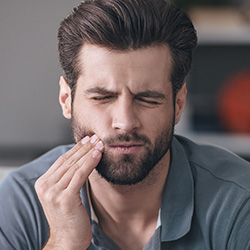 A dental emergency is any situation where you have severely injured your teeth, mouth, or gums. Like any emergency, you need to act fast to get the medical attention you need. Rather than rushing to the hospital, you should instead call West Coast Implants. Dr. Ben Partovi and our team have the training and the tools to quickly relieve your pain and save your smile. When you call in, we'll make every effort to see you a soon as possible (including making same-day appointments), and our highly-skilled team will walk you through basic first aid.
If you find yourself in any of the following situations, be sure to call us first:
A knocked out or broken tooth
Broken or damage dental work (fillings, crowns, bridges, dentures)
Damaged or painful dental implants
Severe toothache
Large object caught between the teeth
Injury to the jaw
Swelling in the face
In situations where you have suffered other injuries such as broken bones or are bleeding profusely, be sure to go straight to the emergency room. After you are stable, be sure to contact us so we can help you with your smile.