Meet Our Implant Dentistry Team
A dental practice is only as good as its team, which is why we feel we are one of the best! Our staff is highly experienced in all portions of the dental implant process, so not only will we be able to guide you smoothly through your appointments, we will also be there with a warm smile ready to answer all of your questions. We are here to support you in every way possible, and it's truly our passion to help people get their smile back. Below, you can learn just a little bit more about the friendly faces you'll see when you come to visit us!
Amanda – Surgical Assistant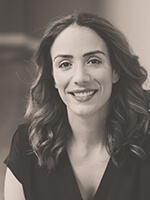 Amanda is Dr. Partovi's surgical assistant, and she helps our patients achieve their oral health goals through meticulous attention to detail and a genuinely caring touch. Originally from Williams Lake, Amanda graduated from the College of New Caledonia in 1997. Her continuing education endeavors include studies in surgical and implant procedures, both of which enhance her skills as she assists Dr. Partovi with a variety of complex treatments. She also has completed the Dental Assistant National Certification Examination, which is a complex training course in IV sedation. Amanda's other professional accomplishments include working as a personal trainer and yoga instructor, two vocations that fit her outgoing and active personality perfectly. She loves being around people and is a proud auntie to her darling niece and nephew.