Ben Partovi, BCS, DDS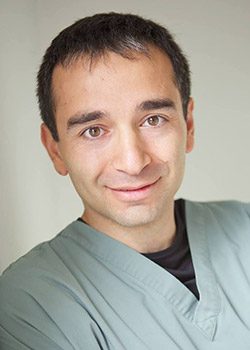 Dr. Ben Partovi grew up in Vancouver where he attended elementary school and high school in the UBC area. After receiving an honours degree from the University of British Columbia in 1996, he attended the Faculty of Dentistry at the University of Toronto. While studying there, he met his future wife and partner, Kara. Once he received his DDS degree in 2000, he used the beauty of Vancouver to convince Kara to move from Ontario to British Columbia. Soon after, Dr. Ben Partovi and his wife Dr. Kara Partovi built West Coast Implants.
Dr. Partovi has a true passion for dental implantology. He has taken multiple courses in the area of dental implants, implant prosthodontics, and full mouth reconstruction. He regularly travels internationally for implantology conferences and is involved in a number of dental implant study clubs.
Dr. Partovi values making dentistry personable and feels that patient care and comfort is an important part of every treatment plan process. He believes that every treatment plan should be all-encompassing and include care, safety, aesthetics, and function. In addition, Dr. Partovi believes that the value patients place on their teeth and lifestyle is an integral part of the treatment plan process. By addressing patient expectations, concerns, and goals, he can better design a treatment plan that suits a patient's needs and values.
In his spare time, Dr. Partovi enjoys hiking the Coast Mountains with his wife Kara, daughters Talia and Racquel. His favourite pastime is hiking along the beautiful British Columbia rivers fishing for steelhead.